Real Estate & Land Use Attorneys in York, Pennsylvania
York County Real Estate Lawyers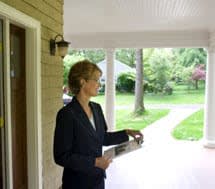 At York-based Malone & Neubaum, our attorneys are recognized real estate professionals. We assist clients throughout Pennsylvania with all of their real estate and land use needs, including the purchase and sale of property, drafting land use agreements, resolving land use disputes, and ensuring property titles are clear.
We approach each real estate transaction with a comprehensive strategy to protect you in the purchase of your home, farm, or business. Likewise, should problems arise after settlement, our attorneys are experienced in the various methods of Alternative Dispute Resolution often set forth in real estate contracts.
Recognized Real Estate Attorneys
From contract to closing, Malone & Neubaum can assist you during every step of your home purchase or sale. Our Real Estate practice centers on our responsibilities as an authorized agent for First American Title Insurance Company, where our primary duties include document preparation and review for real estate settlements including in-house title abstracting. In addition, Attorney Malone is recognized as an authority in land records research and has assisted clients as a representing attorney and as an expert witness in boundary disputes.
Strategic Land Use Solutions
Land use and zoning issues arise in a myriad of contexts. Neighbors may disagree over access to a certain parcel of land, and developers and residents may disagree with municipal zoning laws. At Malone & Neubaum, our attorneys help clients resolve their land use disputes to ensure land is used effectively throughout the state.
Our firm helps facilitate land use agreements — including easements and right-of-way agreements — between individuals and helps resolve land use and zoning disputes with municipalities. We also draft and review residential and commercial leases, represent landlords in their eviction proceedings and property damage suits, and represent clients involved in construction defect and nondisclosure disputes.
Real Estate & Land Use Attorneys Throughout Pennsylvania
At Malone & Neubaum, we understand the prospect of real estate and land use litigation can be overwhelming. That is why we are committed to providing our clients with the highest quality of legal guidance every step of the way. As recognized attorneys, we not only have the knowledge but the determination to help you resolve your real estate and land use issues. Contact Malone & Neubaum today to schedule a free consultation.